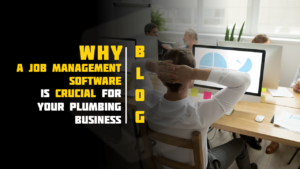 Business used to be simpler. All you needed to do was employ a team with the adequate skills and business was set.
But not in the modern world. Now this process costs more money plus time. Of course nowadays the taxes are higher too.
Luckily the modern world also brings in its fair share of solutions for our daily woes. We're talking about having your profitability increased, groundwork managed, projects updated and yes, employee accountability.
And guess what?
This list doesn't even begin to touch the surface on all you'll be getting after making the decision to bring job management software on board. So now let's get into the question on your mind, right now.
"Why would I need job management software? I'm in the plumbing industry"
What's Job Management Software?
Job Management Software is a digital tool that helps you to strategize, keep a tab on, review, and organize both projects and groundwork tasks with the intention of enhancing your team performance and business output.
Why it's crucial for your plumbing business.
Job management systems have proven to have air-tight solutions that have been thoroughly useful in times of business hardships or economic recession.
If you've encountered one or even both of the mentioned setbacks in your plumbing business then read on.
Here's What You'll Be Getting…
Job Costing Reports
Job management software will turn out to be a deserving investment because it helps you control where and how you are making money. It gives you the option to integrate quotes for an accurate and detailed quoted cost.
Such a feature will always be automatic, of course. Since a team member will likely be handling quoting, you'll be able to view if they are doing it correctly.
Most importantly , this software helps you see where the profit is being made on each individual job so that you can be more confident of whether to lower or raise your quotes.
Managed Time
Time is of the essence no matter what project is being worked on. Plumbing businesses do not always require sitting in the office 24/7 since it's an active service.
As an employer you need to be on top of what your employees are doing and if it's affecting the overall worth of the business. Job management software gives you all this information so that you can decide what you and your employees spend your time on and how much of it.
Apart from that, this software is pretty handy in making sure you're not spending too much time on a client home visit that can be used in getting the next big tender. In short, it holds you accountable to how you're spending time in your plumbing business.
Tracked Work
Reports are important. They sneak in all the details of your activities and if you and your team have truly been as productive as you seem. This feature helps you create updates for clients, identify issues quickly and pay attention to work progress.
Well-organized tasks
Nothing frees up time and clears work anxiety like tasks properly organized.
A job management software ensures that your long line-up of tasks are arranged by order of priority and you can attend to each one and satisfyingly watch it disappear off the list.
It also clarifies who's doing what, when and the status of their progress. You even have the option to collaborate.
Balanced Schedules
Never worry about making calls to everyone in the office when you're away. A job management software helps you to schedule work for your team even when it doesn't involve projects. Think of it as having an extra eye and limb to your employee's activities at every point for enhanced productivity.
Effective Collaboration
Collaborating on tasks and projects has never been smoother. This is a special feature, especially for your plumbing business because it binds everyone together.
Be it for small actions such as sharing files, having meetings or even interactions for feedback, collaboration keeps your team on the same page and as productive as ever!
Does This Sound Like You?
I suck at being organized.
My team is growing.
I can never keep up or understand these spreadsheets!
I can't and don't think I need reports. I manage my business well without them.
I'll speak to the team when I'm back in the office.
I wish there was a way to keep up with all my clients and make all of them satisfied with my customer service.
If you answered 'Yes' to anyone of them then a job management software would transform how you're managing your plumbing business right now. It'll not only make your daily tasks efficient but will also affect how much you pay your employees along with the overall cash flow in your plumbing business.
Suggested Job Management Software to consider: