What is your marketing strategy for 2019?
Strategy is an important aspect for any business, including Tradies. Knowing where you are coming from, where you want to be by a certain time and how to get there separates successful and failed businesses.
Profitability is one major goal for Tradies and in our last article we discussed strategies that Tradies can use for their businesses to be profitable. This post, however, looks at another aspect of business that cannot be ignored, marketing.

Marketing a trade business
How do you plan on increasing the number of clients you have in 2019? How do you plan on retaining those clients? Will the same clients refer other potential clients?
These and other questions are part of why any trade business needs a solid marketing plan. For some Tradies offering once off services, a constant stream of new clients is not an option, it's a must. One way of achieving this stream of new clients in through marketing their businesses online.
Online marketing: the new opportunity
Mobile friendly website
Having a website is one of the best ways to be visible and easily be found by potential clients. Think of a mobile friendly website as your digital business card. People can easily search and find details about your business from their mobile device. Creating a mobile friendly website can help you to improve user experience and increase conversions.
Social media marketing
Advertise where your clients are. According to Social Media News, 60% of Australia's population is active on Facebook, and 50% are logging onto Facebook at least once a day. This just goes to show the need for trade businesses to have social media profiles.
Social media marketing has many features such as targeted advertising and sponsored content that a trade business can use to reach out to new clients. Its affordable, compared to some traditional marketing options. Tradies can take advantage of these highly visual platforms to create content such as current or finished work in the form of videos and images.
Google My Business gives your business credibility and visibility. Google My Business is a free business listing on one of the biggest search engines on the internet, putting your business in front of many potential customers. Google My Business easily shows your hours of operation, phone number, website and directions, which could help potential client reach you. P.S Google my business is free.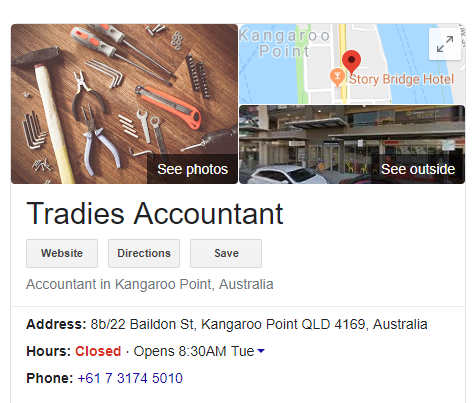 Google ads
Google Ads (formerly known as Google adwords) is an online advertising platform where advertisers pay to display advertisements, service or product listings. Your trade business can easily be at the top of related search queries by using pay per click advertising. Making use of keywords that are closely related to your trade business, including geo targeting your trade business can get an edge of competition.
Local listing
Accreditations, licenses, and certifications can set you apart from your competition. This give authenticity and credibility to your business thereby giving people the assurance they need when selecting a service provider. Organisations such as ASOFIA – Australian Shop & Office Fitting Industry Association have online directories for Tradies in the shop and office fitting industry and attending their conferences and events will help you develop strategic partnerships or even generate new leads.
Reviews and Testimonials
The importance of online reviews and testimonials is increasing as more people are looking for community reviews in order to make informed decisions. These rating systems give people that haven't dealt with service providers a sense confidence and assurance before engaging the service provider. Think of Uber or AirBnB ratings, the more the stars, the more you feel comfortable using the Uber driver or booking an apartment.
Likewise, asking your customers to leave reviews on your website or social media platforms can help your business thrive as you can become the go-to company in your community or industry.
Conclusion
There is need for Tradies to embrace marketing and find creative ways of reaching potential clients, earning their trust and retaining them. Well executed marketing and service delivery creates brand advocates which means more free exposure.
If you are planning on growing your trade business, set aside a marketing budget that can help you achieve your goals. We can help you with the financial planning and budgeting for the year to ensure that your business thrives.
Contact us for a free consultation today.